Between the World and Me by Ta-Nehisi Coates
Recommended by Amy Argenal, Service Learning, and Ben Slater, English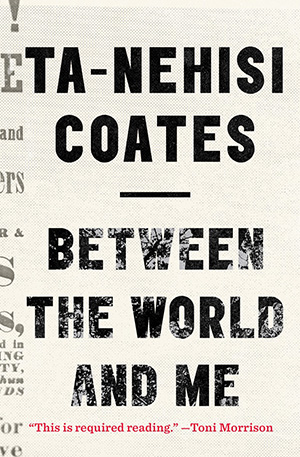 Ben says:
Toni Morrison says, on the cover of the book, "This is required reading." This pouring forth of personal experiences and reflections is a necessary counterpart to fact-based arguments (like Coates's "The Case for Reparations"); it aims straight for the reader's heart to communicate the subjective, visceral experience of racism. If you ever feel stuck in denial or in data, in apathy or in arguments, dedicate a few hours to take in this short book over the summer. From what I've seen, it truly is required reading for BART, if not for the whole Bay Area.
This book will appeal to fans of The New Jim Crow by Michelle Alexander, Zeitoun by Dave Eggers, and We Should All Be Feminists by Chimamanda Ngozi Adichie.
In previous years, Amy has recommended Angry Black White Boy by Adam Mansbach (2012), Caucasia by Denny Senza (2013), Redefining Realness by Janet Mock (2014), and Just Mercy by Bryan Stevenson. Ben has recommended Siddhartha by Herman Hesse (2014) and Ishmael by Daniel Quinn (2015).